Chilewich

At home in both residential and commercial spaces around the world, Chilewich products are designed at our New York City studio. Led by creative director Sandy Chilewich, our design team includes master weavers who develop and refine innovative patterns and multi-tonal colors for collections that are renewed seasonally.
Our desire for artistic expression is balanced by our commitment to reaching a broad audience—one that spans cultures, tastes, and income levels—and to creating products that retain their beauty and functionality over decades of daily use. 
Containing a minimum of 18% renewable vegetable content, our woven textiles are made entirely in the United States. The Chilewich factory in Chatsworth, Georgia, produces approximately 40,000 placemats a week. This 127,500-square-foot space is also where various backings are bonded to our textiles to create products for a range of applications.
Established in 2000, Chilewich is led by Sandy Chilewich and Joe Sultan.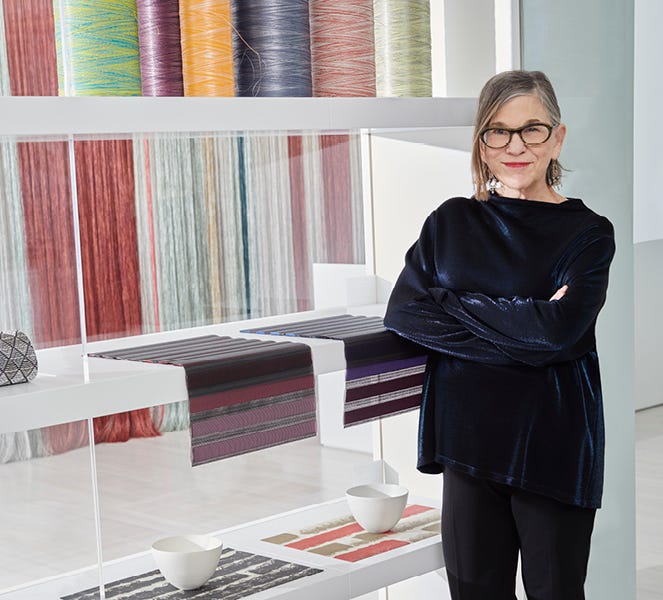 Sandy Chilewich, Founder and Creative Director
When designer Sandy Chilewich came upon the industrial process of extruding yarns, which allows for the creation of continuous filaments, she saw pure potential. She seized upon vinyl—durable, versatile, and easy to clean—to create woven placemats that changed the way the world sets the table.
An architect by training, Joe Sultan spearheaded the development of backings suitable for commercial use and in 2001, we launched our Contract business, which now includes flooring, wall textiles, window coverings, and upholstery fabrics. Available in 110 countries, our products continue to push the boundaries of form and function with their innovative weaves, distinctive colors, and easy maintenance.